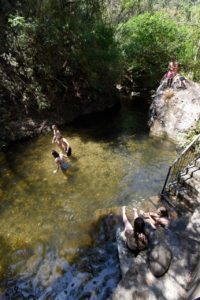 We arrived at Mama Llena just in time for dinner on Sunday after traveling for almost 10 hours. But before we got our well deserved dinner, we had to unload our suitcase and roll them up to our house. We are all living in a 4 story house. We ate our very healthy dinner of fish, brown rice, and salad. A bunch of us went down to the natural pool for a refreshing dip. The water was a bit cold but it was very nice. After we all huddled downstairs for a movie night. It took many tech savvy people but we finally got School of Rock to play on the TV.
We had a leisurely wake up this morning. Here, breakfast is from 7-11 so there was no rush at all. People spent the morning journaling, relaxing and enjoying the hot sun. At 11 am a number of us went on a tour of the property. We saw all of their produce and were shown the dif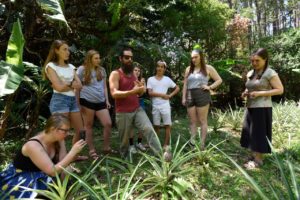 ference between the citrus trees just by the smell of their leaves. After a 1 o'clock lunch people dipped on the pool before our reflection discussion. During the reflection period we each came up with two questions or realizations and then selected the most interesting ones. Each group of three facilitated a discussion about the realization or question. After 6 great discussions we broke for a bit and then met again for another delicious meal. Now many people are getting ready for another movie night, featuring "Bend it like Beckham." Mama Llena is wonderful, and we'll be home soon!
-Liam and Sara