Greetings from Sara, Andrius, and Liam of Group Phoenix!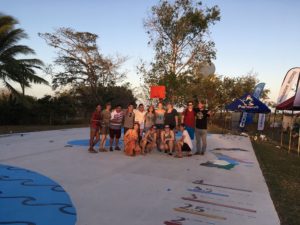 Saturday was a packed day! After we finished our dance class, we went to the Maribé school to help paint the new playground. This was a project spearheaded by the Waved Foundation, an organization that raises money for public education through surf competitions.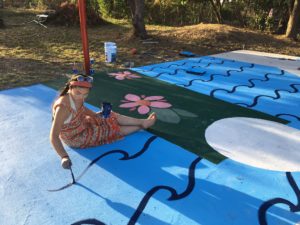 We spent the majority of the afternoon painting a basketball court surrounded by murals and games, such as a map of Panama, hopscotch, a maze, and the alphabet. After many hours of hard work in the sun, we ate dinner and left for the beach!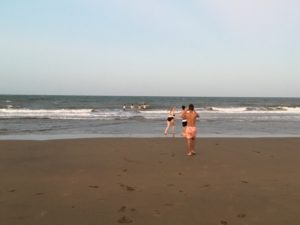 We went to Arenal beach to welcome the sunset while swimming in the warm waters. We swam until just after dusk, at which point we trekked the two miles back to Pedasí. Fortunately our teacher's husband followed behind with his car, lighting the way while we played music and enjoyed the gorgeous full moon.
Back in Pedasí, we hung out in the plaza and had ice cream before returning to our host families for a well-deserved night's sleep (and for Spanish homework).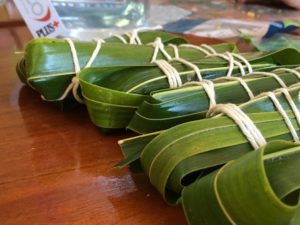 Sunday morning we arrived at school to find an array of ingredients before us. To our delight, today's lesson was learning how to cook traditional Panamanian dishes! First we learned how to cook empanadas, made out of ground corn, salt, and local white cheese. Next on the menu, was bollos, a sweet breakfast dish cooked in palm leaves.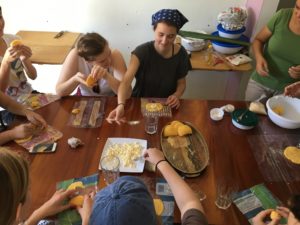 Lastly we made tamales, which included hand kneading ground corn and a blend of spices and wrapping it in banana leaves with chicken and vegetables. While the tamales were cooking, we were lucky enough to have another dance lesson- only this time we added tambores, or drums. After a truly exhausting hour, we returned to school for a traditional Panamanian soup.
For the rest of the afternoon, we're going to catch up on journal entries, and then reward ourselves with a trip to the beach! ¡Hasta luego!